Alfieri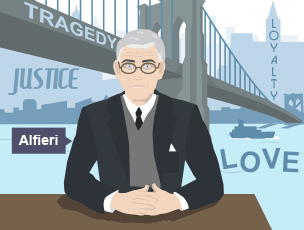 Alfieri makes six appearances on stage throughout the play.

He is a

portly, good-humoured, and thoughtful

lawyer

who was born in Italy. He also acts as the play's

narrator

, in imitation of ancient Greek tragedies where a group of actors commented on proceedings and were known as the

'chorus'

. In these plays,

fate

always plays a huge part, and no one can change its course. A

Greek tragedy

is a play where the main character has a serious character flaw and this failing leads that character to his or her death.

As a lawyer, he works in the poor Italian community of Red Hook, Brooklyn, using his education and knowledge to help the people with their small legal issues.

At the start of the play he refers to

three thousand years of distrust

which have been felt by Sicilians towards lawyers, because

A lawyer means the law

. He thinks that living in America and following the written law makes people less

savage

and less likely to take the law into their own hands. He says,

And now we are quite civilised, quite American.

He is

kind

and worries about his clients. When Eddie comes to him, because he is so upset about Catherine and Rodolpho's relationship, Alfieri tells him to

Let her go.

Alfieri himself goes to see a wise woman for advice as he does not know how to prevent Eddie from bringing ruin on himself. He is also

wise

; he realises that Eddie is on a destructive path but can see that this is inevitable – nothing can prevent fate from following its predestined course. He is

omniscient

but not

omnipotent

.

As Alfieri spent his first 25 years in Italy and is now in his fifties, he has experienced both ways of life but the extra years in America show that the balance has tipped towards the American way of life.

Alfieri has a

sense of humour

. He refers to the way that

a case of Scotch whisky slipped from a net while being unloaded

just before Christmas. It was accepted that the dock workers would more or less help themselves to certain goods around Christmas, such as alcohol and coffee, and Alfieri sees this as a perk of their job.

He gets

frustrated

with Eddie. The stage directions say that he speaks

with a tougher tone

at one point when Eddie will not listen to him. Although he believes in following the written law, he still believes in the Mafia code of silence –

omertà

– and warns Eddie not to inform on Marco and Rodolpho.

He believes in a man's sense of honour. He tells Marco that he will arrange for him to be released on bail –

But I'm not going to do it, you understand me? Unless I have your promise. You're an honourable man, I will believe your promise.

He wants Marco to promise not to kill Eddie. He insists that all the law is

In a book. There is no other law.

He adds that

only God makes justice.

Finally, Alfieri thinks that we are all capable of acting like Eddie does. He says he saw something

perversely pure

in him. This means that every one of us, no matter how reasonable or law-abiding, has a breaking point.
Greek tragedy is an early type of theatre, most popular in Athens in the 5
th
century BC. The main character (usually, but not always, male) suffers from a serious misfortune which he has brought upon himself. He generally has a single character flaw, or weakness, which he cannot overcome. Since the ancient Greeks believed that humans did not make their own decisions but instead were puppets of the gods, it followed that a tragic hero could not change his own destiny, as it had already been decided by the gods.
Kind
How is Alfieri like this?
Alfieri is not interested in making a lot of money from the law. He cares about the Italian community and about achieving justice for the poor and uneducated.
Evidence
My wife has warned me, so have my friends; they tell me the people of this neighbourhood lack elegance, glamour.
And my practice is entirely unromantic.
After all, who have I dealt with in my life? Longshoremen and their wives, and fathers and grandfathers, compensation cases, evictions, family squabbles – the petty troubles of the poor - and yet...
Analysis
Alfieri cares about the poor, and it is obvious that his wife and friends think that he could do a lot better if his clients were richer and from a different neighbourhood.
Realistic
How is Alfieri like this?
Alfieri, as the narrator, says that Eddie is an ordinary man who will not be able to overcome his extraordinary problem.
Evidence
Now, as the weeks passed, there was a future, there was a trouble that would not go away.
Analysis
Alfieri notes that most people expect an ordinary life; being born, raising a family, eating, working, growing old and dying. He says that Eddie suddenly had a destiny, suggesting that there was an obstacle in his life which he was powerless to prevent.
Sympathetic but firm
How is Alfieri like this?
Alfieri knows that Eddie is frustrated about Catherine and Rodolpho's relationship.
Evidence
Eddie, look – I have my own children. I understand you. But the law is very specific.
The child has to grow up and go away, and the man has to learn to forget.
"You have norecoursein the law, Eddie."
Analysis
Alfieri tactfully tries to tell Eddie that it is possible to have too much love for somebody and that this love is inappropriate. He realises that Eddie has never examined his feelings for Catherine and that he would be horrified to find out how other people see them.
Insightful
How is Alfieri like this?
He can see that Eddie is tempted to inform on Marco and Rodolpho.
Evidence
But I don't think you want to do anything about that, do you?
Analysis
He does not specifically say what he thinks Eddie is contemplating. He just implies it.
Concerned
How is Alfieri like this?
He emphasises how terrible it would be for Eddie if he does inform.
Evidence
You won't have a friend in the world, Eddie! Even those who understand will turn against you, even the ones who feel the same will despise you! [Eddie moves off] Put it out of your mind!
Analysis
Although he is a man of the law, even Alfieri is aware that breaking the code of silence – the omertà – is seen as unforgivable. Eddie will be an outcast from everyone he has ever known.
Social and historical context
Many of the people living in the Italian community in New York in the 1950s were either first or second-generation immigrants. Their parents or grandparents had crossed the Atlantic in search of a better life. Many of those who settled in New York worked in the Brooklyn dockyards, loading and unloading the ships which came from all over the world. Arthur Miller himself was descended from Polish Jews who had immigrated to America at the end of the 19th century. He worked for a couple of years in the Brooklyn dockyards, where he got to know and like the Italian workers. It was at this time that he was told the story of some illegal immigrants who had been informed against, and he turned it into a play.
Omertà - the Mafia code of silence - was an unwritten law. Even though many people knew of illegal immigrants living among them, they would not consider breaking the code and informing the authorities. Miller emphasises how even upholders of the law will not break the code. Alfieri is a lawyer who believes in the American justice system, but even he thinks that it is wrong to betray somebody, and even the two immigration officers, who speak to each other in Italian, are clearly disgusted by what Eddie has done.
Analysing the evidence
But this is Red Hook, not Sicily. This is the slum that faces the bay on the seaward side of Brooklyn Bridge. This is the gullet of New York swallowing the tonnage of the world. And now we are quite civilised, quite American. Now we settle for half, and I like it better. I no longer keep a pistol in my filing cabinet. (Alfieri)
Question

What does this extract tell us about Alfieri and his attitudes?

In the first sentence, Alfieri reveals that he is living in America rather than Italy. The personification of the River Hudson as an enormous mouth is effective, as New York seems to swallow up people and goods from around the world. Even the word tonnage suggests a 'tongue', furthering the idea. He does not say that it is beautiful - in fact it is quite the opposite – but it is what he and many immigrants have chosen, because it is civilised. The written American law is most important, not the ancient law of Italy, where people used to take matters into their own hands. He feels that he does not have to be armed to be safe; now he can depend on the law to protect him.