Soaps play a vital role in keeping clean. They are salts made from the alkaline hydrolysis of fats and oils (triglycerides).
Fat molecules contain three ester links. These can be hydrolysed when they are heated with sodium hydroxide or potassium hydroxide. This results in the formation of glycerol and a salt - soap.
\[Fat/Oil + Sodium\, Hydroxide \rightarrow Soap + Glycerol\]
Fats and oils are esters made from glycerol and long chain fatty acids.

Consider the hydrolysis of this triglyceride found in animal fat.
This molecule can be hydrolysed to give stearic acid (C17H35COOH). Under alkaline conditions, when the three ester links break, three stearic acid molecules are produced. These are then neutralized to form water-soluble ionic salts called soaps. If sodium hydroxide is used then sodium stearate (C17H33COONa) is formed as the soap well as glycerol.
Sodium stearate (a white solid) is the most common type of soap. Each molecule consists of a long non-polar covalent hydrocarbon 'tail' and a polar, ionic 'head' where the charge is.
This structure explains the cleansing action of soap as the non-polar 'tail' dissolves in non-polar substances such as grease while the polar 'head' will not.
The non-polar tail of the molecule can be called hydrophobic as it is repelled by water.
However, the polar, ionic head is hydrophilic and does dissolve in polar solvents such as water.
Once scrubbed or mixed properly, the grease is broken up into small ball-like structures (micelles) and held in suspension in the water by the repulsion of the negatively charged ionic heads.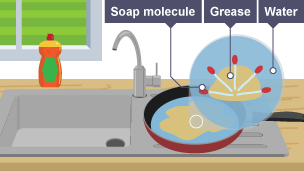 This suspension of small grease droplets in water is called an emulsion.