A pupil used the following apparatus to find the specific heat capacity of aluminium: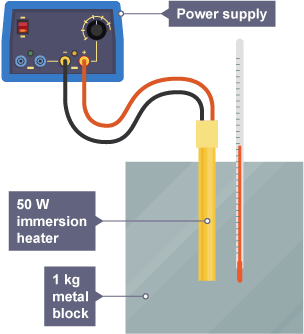 The pupil then performed the experiment using the instructions below:
ensure the power supply is switched off

place the immersion heater and thermometer in the holes provided in the 1 kg aluminium block

record the initial temperature of the aluminium block

switch on the 12 V power supply

record the temperature of the 1 kg aluminium block after 10 minutes
a) Which one essential piece of apparatus is missing from the diagram? [1 mark]
b) Outline one hazard when performing this experiment. [1 mark]
c) Calculate the energy supplied from a 10 W heater in the 10 minutes by using an equation you remember. [2 marks]
d) The initial temperature was 15°C and the final temperature was 20.5°C. What is the temperature rise? [1 mark]
e) Choose an equation from the list to find the specific heat capacity of aluminium. [3 marks]
f) If your answer is different to the accepted value of 920 J/kg°C try to give an explanation of why it is so. [1 mark]
g) Another pupil performed the same experiment with the same heater for the same time on a 1kg block of Iron. If iron has a specific heat capacity of 460 J/kg°C, what main difference would you see in the results of the experiment? [2 marks]
a) Lagging/insulation/stop clock [1]
b) The hot immersion heater can burn [1]
c) Power = energy ÷ time in seconds
Energy = power × time in seconds = 10 × (10 × 60) [1]
Energy = 6,000 J [1]
d) 20.5°C - 15°C = 5.5°C [1]
e)
[1]
= 6,000 ÷ (1 x 5.5) [1]
= 1,091 J/kg°C [1]
f) It is a bigger value because some of the heat energy from the heater is lost to the surroundings. [1]
g) The temperature rise would be greater [1]; in fact double/twice as much [1].