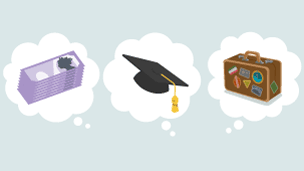 In Spain, for students who achieve high grades at the end of their post-16 studies (el bachillerato), going to university is a popular option but is also very competitive. Students have to sit an exam called Selectividad. There are also many students aged 16-24 who choose to follow the apprenticeship route into their chosen careers. Taking a gap year or undertaking voluntary work are increasingly popular options.
Here is some important vocabulary on the topic of post-16 choices.
| | |
| --- | --- |
| la academia | post-16 college for certain careers |
| el aprendiz | apprentice |
| el aprendizaje | apprenticeship |
| la carrera | career/profession/degree |
| el curso | course/school or university year |
| la empresa | company |
| la experiencia laboral | work experience |
| la formación profesional | vocational training |
| el título (universitario) | university degree |
| tomar un año libre/sabático | to take a gap year/a year off |
| el trabajo voluntario | voluntary work |
| la universidad | university |
| lograr | to achieve |
Read what these young Spanish students say about what they want to do when they leave school.
Andrés:Yo quiero ir a la universidad. No sé exactamente lo que voy a estudiar para la carrera, pero si saco buenas notas en los exámenes, quizás estudiaré Derecho.
Beatriz:En este momento estoy harta de estudiar. Creo que necesito un año libre. Pienso tomar un año sabático para trabajar como voluntaria en algún país sudamericano.
Celia:A mí no me interesan tanto los estudios académicos. Prefiero hacer cosas con las manos. En septiembre voy a empezar un aprendizaje en una empresa de ingeniería.
David:Me gusta cocinar así que, cuando deje el instituto, voy a ir a una academia para estudiar hostelería y turismo.
Elena:A mí me gusta ayudar a la gente así que yo quiero ser médica. Claro, hay varios años de estudios universitarios y luego, cuando hayas conseguido el título, unos años más de formación profesional.
Federico: No me importa mucho lo que hago. Solo quiero ganar lo suficiente para sobrevivir. Estoy buscando trabajo en una fábrica. Así tendré tiempo para salir con mis amigos por la noche y pasarlo bien.