Transpiration is the evaporation of water from the spongy mesophyll cells followed by the diffusion of water through the air spaces and out of the stomata.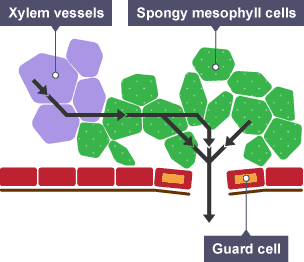 Most of the water that enters a plant will exit the leaf into the atmosphere.
This provides a continuous stream of water which is known as the transpiration stream.
The transpiration stream is important because:
It provides leaves with a continuous supply of water (for

photosynthesis

).

It continually

transports

minerals from the roots to the leaves and other parts of the plant.

It provides plant cells with

support from turgor

.

It provides water for

transpiration

.
If water availability is limited, plants will need to reduce transpiration.
In order to do this, the stomata (mainly found on the underside of the leaf) close.