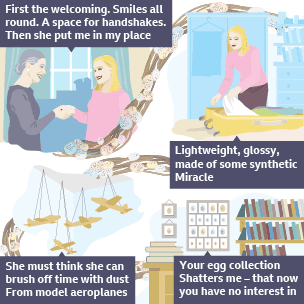 This is one of a number of relationship poems by Liz Lochhead. It centres on the conflict between a young woman and her boyfriend's mother, an older woman she threatens to displace in his affections. The "Box" of the title suggests the two are boxing or fighting for a place in the boyfriend/son's life.
In this poem, the unspoken conflict with the mother and the discovery of things she didn't previously know about her boyfriend have a destructive effect. They lead to a sense of disillusionment rather than galvanising the young woman in her attitude towards her relationship.
The young woman is visiting her boyfriend's home and is shown to his childhood bedroom where she is to spend the night. It is a small room and it is implied that the mother wishes the woman to feel small. An unspoken hostility in the mother's remarks makes the younger woman feel that she is disapproved of. The bedroom is full of reminders of the boy's youth and his long-standing ties to his mother in. The young woman starts to feel that there is no place for her in this arrangement and that the relationship has no future.