Cams and followers
Cams
Cams can be produced in any shape, but the most common shapes are:
Circular
Circular cams use an off-centre pivot to cause the follower to move up and down. The follower will rise and fall by a reasonably large amount. These can be seen in pistons, for example on steam engines.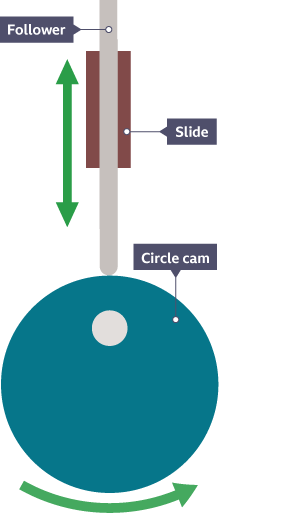 Pear
Pear cams are called this as they have the shape of a pear. It remains stationary for half a turn then gently rises and falls. These are used to make carousel horses rise and fall.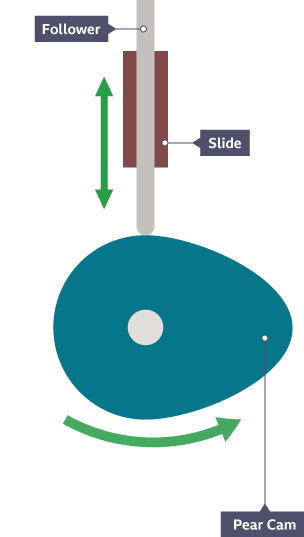 Snail or drop
Snail or drop cams have the appearance of a snail shell. It causes the follower to remain stationary for half a turn before gently rising and suddenly falling. They can only work by rotating in one direction. They are used on production lines to make regular holes or cuts in an item as it rotates and drops at regular intervals.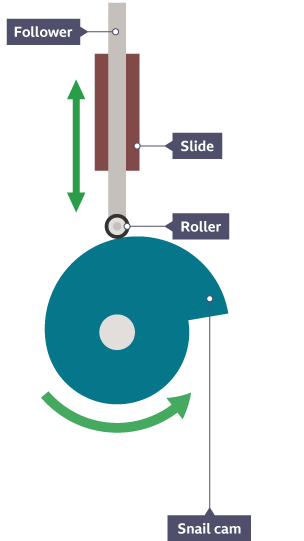 Heart-shaped or constant velocity
Heart-shaped cams or constant velocity cams have a shape similar to a heart. The follower rises and falls steadily with uniform velocity. There is no stationary period.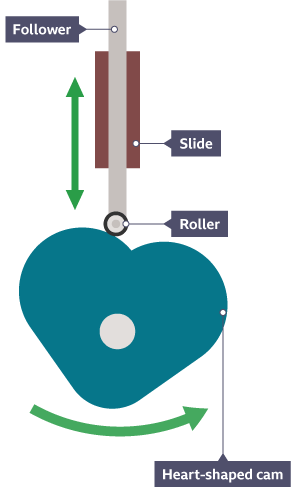 Followers
The purpose of a cam is to move a follower up and down. There are three main types of followers:
Flat
Flat followers have a flat bottom that sits on the cam. These cope well under load but aren't very accurate and have a lot of friction.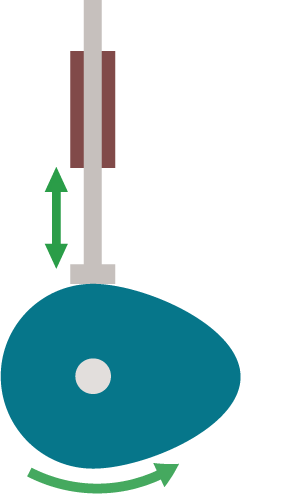 Point or knife
Point or knife followers have a narrow point that sits on the cam. These are very accurate and low friction but are quick to wear away the pointed edge.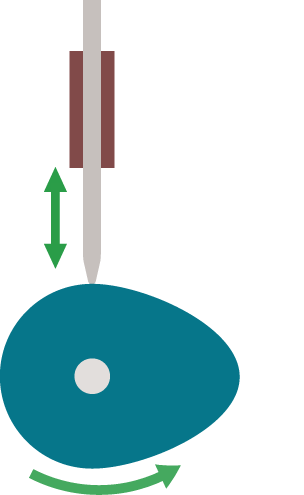 Roller
Roller followers have a roller such as a ball bearing attached to the bottom of the following. These are accurate, low on friction and can withstand load, but are more costly to produce.