Linkages
Levers can be joined together to form linkages. Simple linkages change the direction of motion and the amount of force.
Reverse motion
Reverse motion linkages change the direction of input so that the output goes the opposite way. A fixed pivot forces the change in direction. These are often used on foldable clothes horses.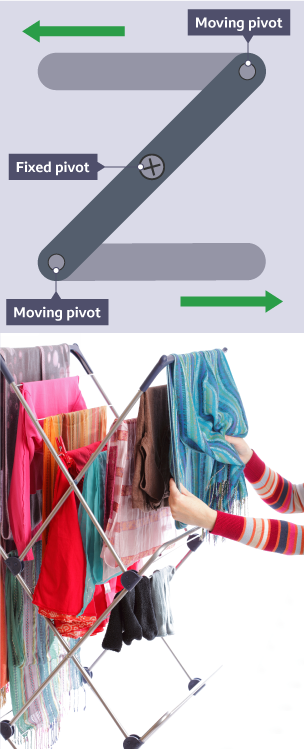 Parallel motion or push/pull
Parallel motion or push/pull linkages use two fixed pivots to make the input and output travel in the same direction, through a link arm. Each fixed pivot has a moving pivot on either side, allowing the movement and power to go backwards and forwards. Changing the placing of the fixed pivots changes the amount of force exerted, while keeping the direction the same. For example, a toolbox with drawers opens up effectively using parallel motion linkages.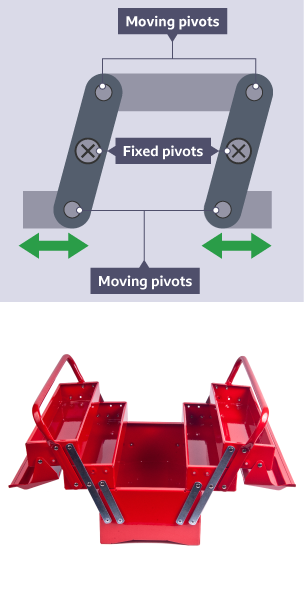 Bell crank
Bell crank linkages change the direction of force through 90 degrees. The amount of output force can be changed by moving the fixed pivot. When used in bicycle brakes, the rider can pull the brakes from the handlebars, which changes direction through the bell crank to make the brake pads touch the wheels.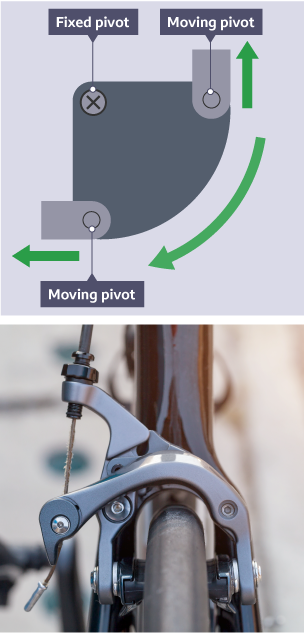 Crank and slider
Crank and slider linkages change rotary motion into reciprocating motion. A fixed pivot is attached to a crank, which turns around and pushes and pulls a slider. When used in a car engine, the ignition of petrol by the spark plugs pushes the slider up, moving the connecting rod and turning the crank.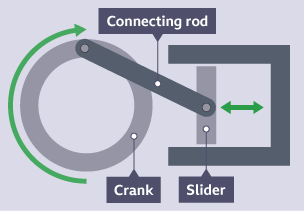 Treadle
Treadle linkages use a rotary input to turn a crank on a fixed pivot. A connecting rod joins two moving pivots to another fixed pivot. This is how a pair of windscreen wipers works on a car, moving backwards and forwards together.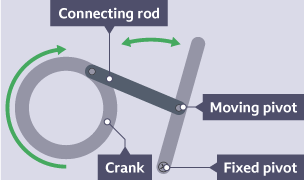 Angles in linkages
It is important when using levers to understand the angles in place for each arrangement. This way a designer can design appropriately for users' needs.
A reverse motion linkage replicates a 'Z' angle. Z angles feature two internal angles, which will both be the same as long the input and output linkages remain parallel.
In the image below, the top internal angle is 30°, and therefore the alternate internal angle at the bottom is also 30°: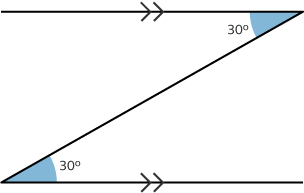 Where two lines intersect, the opposite angles are equal, and where two angles sit on a horizontal line the total angle together is 180°: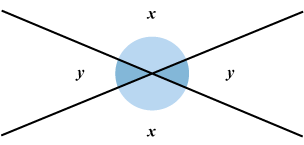 Also, corresponding angles are the same size in this 'F' arrangement: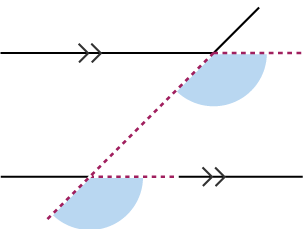 Example
From all of this, the angles A, B and C can be calculated for the parallel linkage below: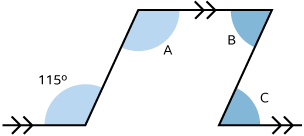 A = 115° as it matches 115° on the Z angle
A and B both sit on a horizontal line, so 115° + B = 180°
180° - 115° = 65°, so angle B = 65°
B and C match on a Z angle, so B and C are both 65°.
Question

Calculate angles A, B and C in the parallel linkage below:

C = 35°

C + A = 180° and A = B

Therefore, 35° + A = 180°

180° - 35° = 145°

A and B = 145°