Bus
Rio's main form of public transport is the bus. These always run more frequently during rush hour. There are almost four hundred and forty municipal bus lines serving over four million passengers each day, in addition to intercity lines.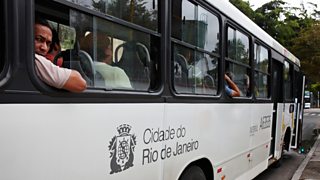 Brazil's public transportation service has been a target of many critics and sparked the 2013 protests that started in São Paulo and spread through the entire country. People were unhappy with the fare increases considering the low quality of service available.
City buses are reasonably cheap, with air conditioned buses costing more than non-air conditioned buses. The system is relatively safe by day but less so at night.
TransOeste Bus Rapid Transit
In preparation for the 2016 Olympics, the first of four Bus Rapid Transit (BRT) corridors was opened in June 2012. Called Transoeste, this first 32 km BRT corridor links the neighbourhoods of Santa Cruz and Barra da Tijuca. It has cut travel times between these two neighbourhoods by 50 per cent.
Another three BRT corridors will be opened by 2016. These will connect Rio's most populous regions.The project is part of a green initiative for sustainable transport that will use new buses operating on ninety percent compressed natural gas.
Subway and urban trains
Rio de Janeiro has two subway lines spanning over 26 miles with 35 stations and several commuter rail lines. Future plans include a third line to Barra da Tijuca and Zona Oeste, as well as the expansion of Line One. An additional line, Line 4 (blue line), is planned to be completed by 2016.
The Metro is Rio's safest and cleanest form of public transport. Subway cars can be overcrowded, but the metro is a cheap and fast way to commute.
Santa Teresa Tram
Rio de Janeiro has the oldest operating electric tramway in Brazil and South America, now mainly used by tourists and less by daily commuters. Santa Teresa Tram or bondinho, has been preserved both as a piece of history and as a quick, fun, cheap way of getting around.
Bicycles
There are over ninety miles of bicycle paths in the city, mainly along the beaches of Copacabana, Ipanema, Flamengo and Lelbon, as well as a path circling Lagoa. An additional ninety miles of path are planned to be finished for this year.
'Bike Rio' began operations in October 2011. This bicycle sharing system is sponsored by the municipal government of Rio de Janeiro in partnership with Banco Itaú. The system has 600 bicycles available at 60 rental stations located in 14 neighbourhoods throughout the city.