Bus
Rio's main form of public transport is the bus. These always run more frequently during rush hour. There are almost four hundred and forty municipal bus lines serving over four million passengers each day, in addition to intercity lines.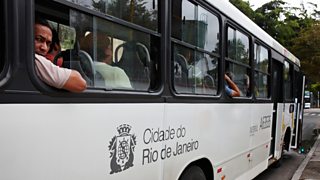 Brazil's public transportation service has been a target of many critics and sparked the 2013 protests that started in São Paulo and spread through the entire country. People were unhappy with the fare increases considering the low quality of service available.
City buses are reasonably cheap, with air conditioned buses costing more than non-air conditioned buses. The system is relatively safe by day but less so at night.
Rio de Janeiro Metro
Rio de Janeiro has three subway lines spanning over 58 kilometres with 41 stations.
The Metro is Rio's cleanest form of public transport. Subway cars can be overcrowded, but the metro is a cheap and fast way to commute. It carries 1.1 million passengers per day and is state-owned.
As the metro is one of the safest, fastest and cleanest modes of transport in Rio, it has reduced the amount of cars on the road, reducing congestion and pollution.
Light Rail Transport (LRT)
The LRT is a brand new tram system, which connects the port to the financial centre in the city and the Santo Dumont airport. This environmentally form of transport, designed without overhead power lines does not use fossil fuels or emit toxic gases. It is used by approximately 300,000 passengers each day and reduces the number of vehicles on Rio's roads.
Bicycles
There are over 450 km of cycle lanes in the city, mainly along the beaches of Copacabana, Ipanema, Flamengo and Lelbon, as well as a path circling Lagoa.
'Bike Rio' began operations in October 2011. This bicycle sharing system is sponsored by the municipal government of Rio de Janeiro in partnership with Banco Itaú. The system has 600 bicycles available at 60 rental stations located in 14 neighbourhoods throughout the city.