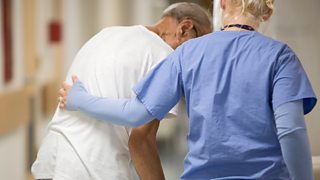 Not everyone will live to the same age and not everyone will enjoy equally good health throughout their life.
It is not the existence of health inequalities that matters most but what is happening to the gap between the richest and poorest in society in terms of health and life expectancy.
In recent years, some of the most well-cited reports on health inequality include:
Equally Well Report (2008 and follow-up of 2010)

Audit Scotland's Health Inequalities in Scotland of 2012

the annual Scottish Health Survey (2014)
Health inequalities are most significant between the richest and poorest in society and the parts of Scotland (and the UK) in which these people live.
For example, a woman born in East Dunbartonshire (statistically one of Scotland's wealthiest areas) can expect to live, on average, almost five years longer than a woman born in certain areas of Glasgow. For men, the life expectancy gap between these two parts of Scotland is even greater at 7.5 years.
A 2008 World Health Organization commission highlighted how wide the gulf in life expectancy can be, even in areas geographically close to each other.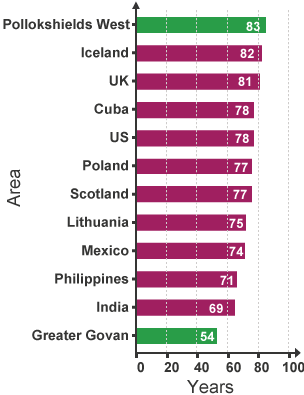 For example, males living in the affluent Glasgow suburb of Lenzie can expect to live to the age of 82. Males in the city's Calton area (eight miles from Lenzie) have a life expectancy as low as 54.
Significant health inequalities also exist between men and women as well as between people from ethnic minority backgrounds and the population as a whole.