The media
Newspapers, television, radio and the internet are also said to influence voting behaviour.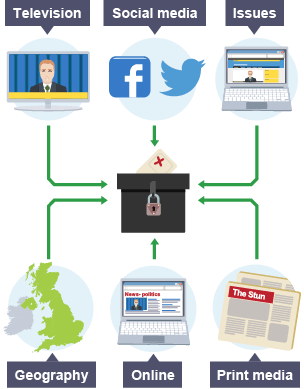 Newspapers
Newspapers, within the law of the land, are free to report the news and politics as they decide. Most have a political stance or viewpoint.
Some political commentators argue newspaper support is crucial to electoral success. Political parties would argue that the editorial stance of a newspaper and the choice of articles it carries can influence less committed voters over time.
However, many people read newspapers for reasons other than politics and there are other factors which influence voters apart from what they read in newspapers.
Television
Television is the main source of political news for most voters. By law, it must remain neutral when reporting on political issues. For only the second time in UK TV history, and after much discussion between the parties and television companies, a series of live TV programmes were held before the 2015 general election. The programmes, each with a different format, allowed the electorate to hear directly from party leaders either going head-to-head with each other or in response to questions from an invited audience. There were also a series of programmes in Scotland involving the party leaders north of the border.
In the debates before the 2010 general election polls, it was suggested the Liberal Democrat leader Nick Clegg had performed best. However, Clegg's debating success did not translate into electoral success as the Liberal Democrats share of the vote at the election increased by only 1% and their overall number of MPs fell by 5%.
In 2015, with a variety of formats and a greater number of leaders represented in front of the cameras, political analysts were more divided on which party leader was the most successful after each of the programmes. Arguably, most viewers who tuned in to watch (viewing figures were up to 8.8m for the third programme) had already made up their minds as to the party they were going to support. However, in Scotland Nicola Sturgeon was thought to have performed very well in the one programme where all seven party leaders were represented and this may have influenced some voters in Scotland.
Online and social media
For many people digital media is the way they access information. Most people can access the internet at home, work or through their mobile phones. Traditional television and newspaper media organisations, such as the BBC, Times, Guardian, Sun and Daily Mail, now provide news apps and websites. Politicians and political parties are investing heavily in the use of websites, blogs, podcasts and social networking websites like Facebook and Twitter as a way of reaching voters.