Economic activity is the amount of production taking place. Over time, the level of economic activity in a country tends to move up and down in a business cycle.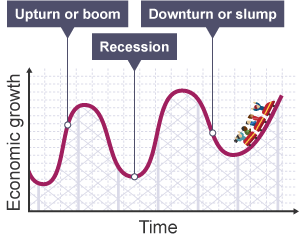 In a

downturn

or

slump

output

falls and many businesses shed staff because sales are falling. The economy experiences a

recession

.

In an

upturn

or

boom

, businesses increase output and hire more staff to keep up with extra demand. The economy experiences

economic growth

.
The impact of a recession varies from business to business. Firms making premium and luxury products are hit hard by any downturn because customers often cut back on non-essentials first. Businesses with large debts can find it hard to meet interest payments when sales fall.
However, a recession makes it easier for a business to recruit new staff in readiness for any upturn in economic activity.