Why do we know so much about the plague and its experience?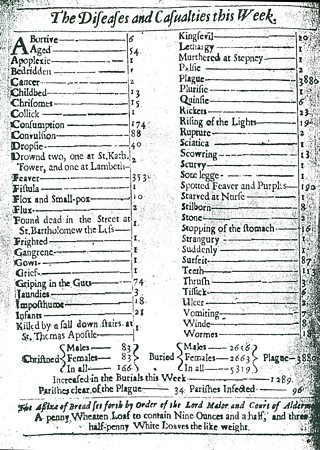 Historians have good data about the plague because records of the deaths were kept at the time on the weekly Bills of Mortality – although the doctors of the time might have misdiagnosed some of the deaths, 86,595 deaths were recorded in the city of London alone.
Also, a number of Londoners recorded the events of the plague at the time. The diarist Samuel Pepys, could not stop himself going out and wandering round the streets to see what was happening and recording his encounters. He recorded the panic that gripped the city of London, the money people paid to protect their homes, of his home, his wife, his friends, the plague and its victims and about the Great Fire too. Forced to leave London he wrote of burying his Parmesan Cheese, I did dig another [hole], and put our wine in it; and I my Parmazan cheese, as well as my wine and some other things.
On the horrific nature of the plague in London and how quickly the illness spread, Dr. Nathaniel Hodges commented in 1666: The disease, like the Hydras heads, was no sooner extinguished in one family, but it broke out in many more. In little time we found our task too great, and despaired of putting an entire STOP to the infection.
In 1722, the writer Daniel Defoe wrote A Journal of Plague Year. It reads as though it is a personal account, but in fact it was a fictional story based on records of the time, although it may also have been based on a diary kept by his uncle.