An ammeter is connected to a coil of wire with a magnet sitting in the coil.
The magnet is moved out of the coil.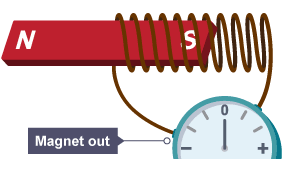 The ammeter moves one unit to the right.
The magnet is replaced and this time it is pulled out more quickly. Explain what happens to the ammeter this time. [2 marks]
The ammeter will move more units to the right [1] because moving the magnet faster induces more potential difference to drive the current [1].