The Unfurrowed Field
The title of the epilude is the same as that of the prelude, indicating that nature continues irrespective of the ups and downs of human life. As at the start of the book, the focus in this section is on the community.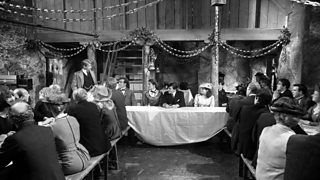 The theme of change is again prominent – the Trustees offer to sell the Kinraddie farms to the tenants, some of whom have grown rich during the war years and now desire to expand their holdings for greater profit. More profitable sheep farming replaces the growing of crops.
Reverend Gibbon moves to America and a new minister, Robert Colquohoun, takes over. He gets to know Chris and they plan to marry.
His address at the unveiling of the war memorial is an epitaph on the old Scotland that perished then...The crofter is gone... nothing is true but change, nothing abides.
The ceremony ends movingly with the piper playing the lament 'The Flowers of the Forest'.
This is Chris's favourite song and the one which she had sung at her wedding.