Seed-time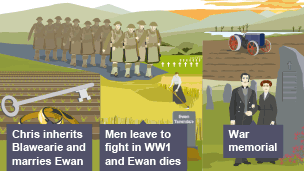 The chapter again begins with Chris at the standing stones. She reflects on her changing features - her own face, strange to her this last month and stranger now. Chris is pregnant and reflects on events since the last chapter.
One morning, Chris takes her father his breakfast and finds he is dead. She immediately feels a sense of freedom and happiness.
Again, the community rallies round at the funeral, at which Chris walked free and uncaring and Ewan Tavendale walked beside her. It is only later that she wept softly for the father she'd never helped and forgot to love.
Chris is elated when she hears she has been left the entire estate, giving her the freedom to move away from the filthy soss of a farm and resume her studies. Yet as she walks in the fields she feels the emotional pull of the land - sea and sky and the folk... lasted but as a breath... but the land was forever...She hated and loved in a breath.
Chris has inherited her father's independence as well as his money and she goes to see the lawyer at Stonehaven, instructing him to make arrangements for her to keep the farm with an old woman, Mrs Melon, moving in to help her with the housework.
She runs into Ewan and they have lunch and walk to Dunnottar Castle. However, they have a row when Chris asks Ewan whether a story about him and another woman is true.
That night there is a storm and Chris remembers the horses are still outside. She goes out to discover that Ewan and Chae Strachan have come out to rescue them. Ewan escorts her home and asks her to marry him.
Chris arranges for the lease of the farm to be changed into his name. People in the village think she is marrying too soon after her father's death, but Chris has a new confidence and decisiveness, she had everything fixed, it didn't matter a fig what folk might say.
Chris's marriage is initially blissful – not like wakening from a dream was marrying, but like going into one – and in the spring Ewan works hard on the farm.
However, the chapter ends with a pregnant Chris having a row with him and taking refuge at the Standing Stones.