Production of salts
There are a number of ways that you could produce salts in Chemistry. This is an outline of the required steps to undertake one of these methods.
It is important in this practical activity to safely use a Bunsen burner and a water bath. This includes the safe use of a range of equipment to separate and purify mixtures, including filtration and crystallisation.
Method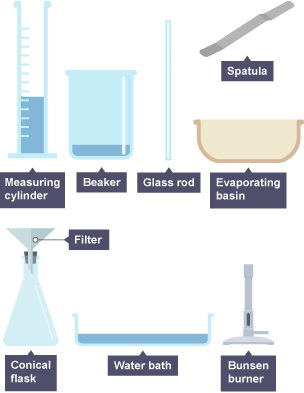 The reaction
1. Add some dilute sulfuric acid to a small beaker.
2. Add some hot water from a kettle to larger beaker or water bath. Place the beaker of sulfuric acid into the hot water to warm up the acid.
3. Add a spatula of copper oxide powder to the acid and stir with a glass rod. Continue adding copper oxide powder until it is in excess.
Filtration
4. Fold a piece of filter paper and put it into a filter funnel. Fit the filter funnel into a conical flask.
5. Add the reaction mixture from the beaker to the filter paper.
6. Collect the filtrate, the copper sulfate solution. Do not collect the residue, the unreacted copper oxide.
7. Pour the filtrate into an evaporating basin.
Crystallisation
8. Set up a Bunsen burner, tripod and gauze on a heat resistant mat.
9. Put a beaker of water on the gauze and the evaporating basin on the beaker.
10. Heat the water, adjusting the Bunsen burner flame so the water is just simmering.
11. Stop heating before all the water in the evaporating basin leaves the copper sulfate solution.
12. Allow the evaporating basin to cool, then leave it aside for a few days or in a drying oven.