Magazines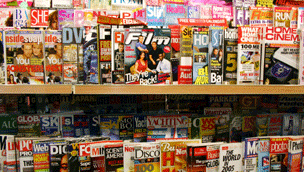 Magazines are associated with, what is known as, 'me time'.
Magazines can be general interest for mainstream audiences or specialist interest for niche audiences. Magazines for mainstream audiences include:
Grazia

Four Four Two

Q Magazine
Magazines produced for niche audiences include:
Magazines are produced in a wide range of subgenres with a specific focus on particular subjects such as health, food, cinema, video games or music.
Publishers
Magazine publishers are often part of huge international media organisations which also produce newspapers, as well as radio and television content.
There are some exceptions, such as The Big Issue or Private Eye, which are published independently.
Major magazine publishers include:
Publisher

Description

Time Inc UK

Formerly owned by Time Warner, it produces titles such as

Now Magazine

,

Marie Claire

and

NME.

Bauer

A German company, who produce magazines such as

Empire

,

Closer

and

Take a Break

.

Condé Nast

They produce magazines such as

Vogue

,

Glamour

and

GQ

.

The National Magazine Company

Owned by Hearst, they produce magazines such as

Cosmopolitan

,

Esquire

and

Men's Health

.

BBC Magazines

BBC magazines are spin-offs from successful BBC shows, including

Sherlock

,

Gardener's World

and

Top Gear

.
These publishers produce many more magazines than those listed above, as well as multiple editions of the same title: Cosmopolitan, for example, has 59 editions worldwide in multiple languages.
This allows a publisher to focus its content on target audiences in any specific region of the world.
Magazines are often associated with 'me time', and are purchased with disposable income.
They are expensive to produce, however the cover price is subsidised by advertisers who use magazines to promote products. Advertising is crucial to the magazine industry, without it, many titles would fold.
The magazine's readership demographic determines the type of advertiser who will use it to promote products.
A magazine like Vogue, which targets female readers, would not be the place for promoting products for men.
A better magazine for this advertiser would be GQ or Esquire; these are magazines which are targeted at a male audience interested in men's fashion and lifestyle.
Successful magazines with large readerships can charge advertisers a lot of money for promotional space.