After slavery
Today many of the words used to label African Americans in the past are uncomfortable because they are tied to racism. One of these that you will see in images of the Civil Rights movement is the term 'colored'. Today people would not use this word, instead people use black or, where relevant, African American instead.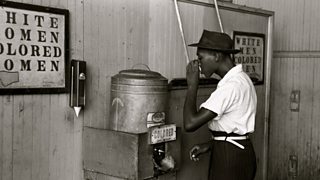 Slavery was abolished in the USA in 1865, after a bloody civil war.
But did life improve for ordinary black people in America?
'Jim Crow' laws were passed in the southern states. They denied black people equal rights. Black people and white people were

segregated

. Black people were not allowed to use 'whites only' public facilities such as schools and parks.

The Ku Klux Klan was formed. Set up during reconstruction of the South after the Civil War in 1865, it aimed to promote 'white supremacy' by intimidating, attacking and lynching black people.

Poverty was a major problem. Black people occupied the worst jobs in society. Many black women worked as servants to white people.

Race riots flared up. Occasionally white people would riot and attack black people such as in Detroit in 1943.
Black Americans continuously challenged their second-class status:
In 1909, the National Association for the Advancement of Colored People (NAACP) was set up to oppose discrimination by challenging it in the courts.

In the 1920s and 1930s, the Harlem Renaissance led to black Americans looking into their own history and beginning to connect to their African roots. Black writers such as Langston Hughes and Zora Neale Hurston wrote books and poetry that explored and celebrated black culture.

In the Second World War, black Americans fought for the USA. In 1948, the US military finally allowed black and white soldiers to serve next to each other. However, the war caused many black Americans to question why they would fight overseas against a racist power like Nazi Germany for freedoms they did not enjoy at home in the USA.

In 1942, James Farmer founded the Congress of Racial Equality (CORE) to challenge segregation by non-violent direct action.

In 1957, Martin Luther King Jr founded the Southern Christian Leadership Conference (SCLC) to fight for civil rights by peaceful marches and demonstrations.