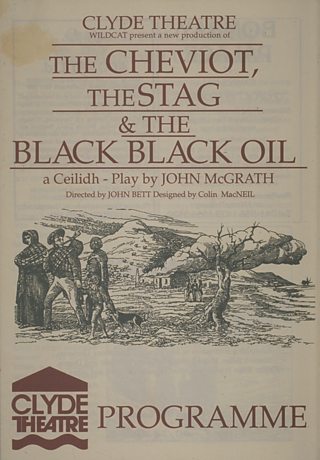 Much in the history of the Highlands appealed to McGrath as a socialist. He had, for many years, wanted to write and produce a play exploring this controversial period in Scotland's history.
In 1973, McGrath was invited to present a play about Scotland at a conference on Scottish identity and the future of the nation. The audience of 450 was made up of people from across social classes and from various professions and sectors.
But at the time 7:84 (Scotland) was in its infancy and McGrath had yet to write this play.
On the day of the conference, the play was still being finalised; the first performance of The Cheviot took the form of a hastily arranged 'reading'. John McGrath notes how:
It was the best thing we could have done. The audience at the end rose to its feet and cheered, then poured out advice, corrections […] facts […] books, sources […] Not because we'd been 'good' or 'clever' – but because what we were struggling to say was what they, and masses of people in Scotland wanted said. Now.
Over the course of one year – 1973, or 'The Year of The Cheviot' – 7:84's production of this new play toured the length and breadth of Scotland.
The company performed a total of 100 shows to over 30,000 people. McGrath and 7:84 avoided bigger venues and city theatres in favour of more modest and civic venues: town halls, arts centres, hotels etc. These were inviting spaces, and more readily accessible, particularly for Highland communities.