Context
The context in which a poem was written can sometimes tell you more about its themes, message and meaning.
Some questions you might ask include:
are aspects of the poet's life reflected in the poem?

is the time or place in which it was written reflected in the poem?
You will need to research the poet's background to discover answers to these questions. But if you do write about a poem and its context, be careful to include only details that reveal something about the poem.
Context of 'Kamikaze'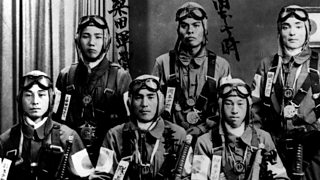 Beatrice Garland has said: "I spend a lot of the day listening to other people's worlds". Her poem Kamikaze appears to extend this habit into her imaginative writing, as she recounts a story told by someone else about a place and time beyond the poet's own direct experience. The structure Garland uses in Kamikaze - a story recounted in one voice, with an ending in someone else's direct words - is one she uses in other poems too, such as A Private Life and partly in A Kosovan Ghost Story.
Beatrice Garland's poem reflects the immense social pressure brought to bear on the pilots to carry out kamikaze missions as part of Japan's war effort during World War Two. Although we may think of this poem as being about a specific military practice carried out by Japanese pilots during wartime, the poem also has a strong contemporary relevance. Instead of simply thinking of the poem as being about a military strategy in the distant past, it might also prompt the thought that suicide missions are part of contemporary conflicts too and are very much in the news.
The poem perhaps prompts us to, think about the consequences of suicide missions for families in the modern world as well as in past conflicts.