Sound waves and light waves reflect from surfaces. The angle of incidence equals the angle of reflection. This is called the law of reflection. So, if a wave hits a mirror at an angle of 36°, it will be reflected at the same angle (36°).
You can investigate the law of reflection using a light box, mirror and angle measurer.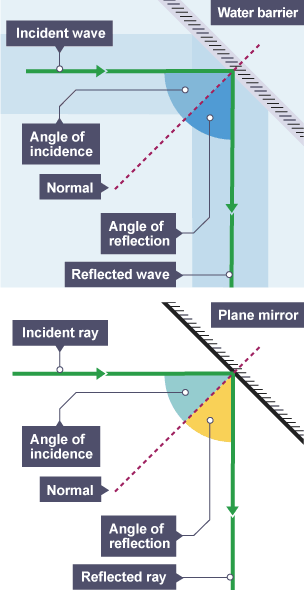 An incident ray of light hits a plane mirror at an angle and is reflected back off it. The angle of reflection is equal to the angle of incidence. Both angles are measured from the normal. The normal is an imaginary line at right angles to the plane mirror.
Smooth surfaces produce strong echoes when sound waves hit them, and they can act as mirrors when light waves hit them. The waves are reflected uniformly and light can form images.
The waves can:
be focused to a point, eg sunlight reflected off a

concave

telescope mirror

appear to come from a point behind the mirror, eg a looking glass
Rough surfaces scatter sound and light in all directions. However, each tiny bit of the surface still follows the rule that the angle of incidence equals the angle of reflection.