New technology has allowed television to become more innovative in its broadcasting methods.
Many people now watch live TV or on-demand content on other devices such as computers, tablets, smartphones, and smart TVs, via platforms such as:
BBC iPlayer

ITV Player

All 4

Demand 5

Sky Go
In 2016, BBC Three was moved to become an online only channel accessible via the internet.
Channel identities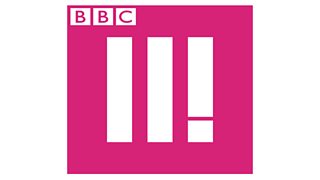 BBC Three's new logo is aimed at a specific audience
TV channels have distinctive brand identities to appeal to different target audiences.
A channel's brand identity is evident in the media texts they produce and how they market themselves to their target audience.
BBC Three's brand identity represents their remit to 'bring innovative UK content featuring new UK talent to younger audiences of 16 to 34 year olds' via an online platform.
BBC Three shows such as Bad Education complement the brand identity of the channel and are suited to their target audience.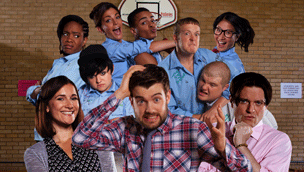 BBC Three's Bad Education is aimed at their target audience of 16 to 34 year olds
BBC Four's target audience is adults aged 35 and over.
Its remit is to 'reflect a range of UK and international arts, music and culture.'
Programmes such as the documentary series Storyville or What Do Artists Do All Day? fit with this remit and are what the audience would expect from BBC Four.
A channel's brand identity gives the audience an expectation of the channel's content, which helps develop viewer loyalty.
Channel identities can also be expressed in the brand ident, a short sequence shown between programmes that features the logo of the television station which viewers can easily recognise and associate with the channel's style and output.
For example, E4's ident represents the young, rebellious and fun identity of the channel.