If two dots are used, they show the beginning and end of the recurring group of numbers:
is equal to 0.312312312...
Example
How is the number 0.57575757... written using dot notation?
In this case, the recurring numbers are the 5 and the 7, so the answer is
.
Example
Convert
to a recurring decimal.
Divide 5 by 6.
5 divided by 6 is 0, remainder 5, so carry the 5 to the tenths column.
50 divided by 6 is 8, remainder 2.
20 divided by 6 is 3 remainder 2.
Because the remainder is 2 again, the digit 3 is going to recur: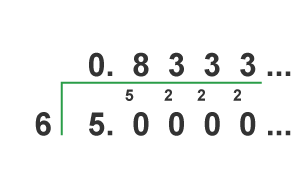 Algebra can be used to convert recurring decimals into fractions.
Example
Convert
to a fraction.
has 1 digit recurring.
Firstly, write out
as a number, using a few iterations (repeats) of the decimal.
0.111111111...
Call this number
. We have an equation
...
If we multiply this number by 10 it will give a different number with the same digit recurring.
So if:
...then
Notice that after the decimal points the recurring digits match up. So subtracting these equations gives:
so
Dividing both sides by 9 gives:
so