Figure 1 shows the reaction profile for a chemical reaction.
Figure 1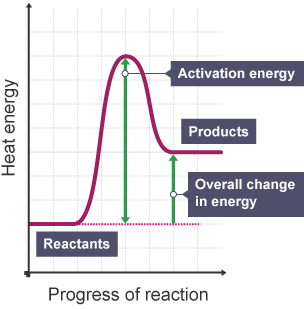 Explain in detail what the diagram shows.
In your answer, state what each arrow represents, and refer to the bond energies of the reactants and products. [6 marks]
The relative energy of the products is greater than the relative energy of the reactants. [1]
The reaction is endothermic. [1]
The arrow on the right represents the overall energy change of the reaction. [1]
The arrow on the left shows the activation energy. [1]
The energy needed to break existing bonds in the reactants... [1]
...is greater than the energy released from forming new bonds. [1]