The area of this rectangle is 56 cm2. Find the value of
.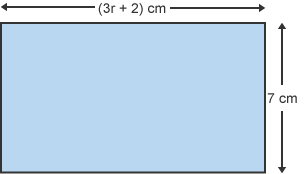 . This means
will all be multiplied by 7. To show this in algebra, use a bracket for
to show that both terms are being multiplied by 7.
7 multiplied by
can be written as
as multiplication signs are not used in algebra.
Area = 56 cm2, base = (3r + 2) cm, height = 7 cm
So setting up an equation using this information gives:
Multiply out the bracket.
Isolate
by subtracting 14 from both sides:
Isolate
by dividing both sides by 21:
Check that this answer is correct by substituting
into the original equation.
The equation balances, so
is the correct answer.