Taking a calculated risk
A new business starts out with few, if any, customers and is likely to face competition from existing firms. To succeed it needs to plan its launch carefully and work out how to create a competitive advantage over its rivals. To gain this advantage, it needs to offer a product which customers prefer to a rival's product.
Setting up a business involves risks and reward. Profit is the reward for risk-taking. Losses are the penalty of business failure.
An owner may decide to close a business if losses are being made, or if the level of profit is not enough to make trading risks or hours worked worthwhile.
A business plan
Most small businesses have very limited resources. Research is costly and can seem like a poor use of time. Some entrepreneurs ignore planning and analysis and instead rely on their gut instinct. They launch products they believe customers want and competitors cannot match. Poor planning is a major cause of business failure.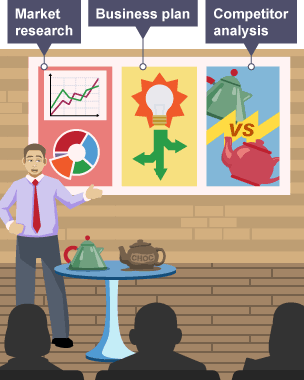 There is an alternative. A business plan is a report by a new or existing business that contains all of its research findings and explains why the firm hopes to succeed. A business plan includes the results of market research and competitor analysis. Analysis is when a business interprets information.
Drawing up a business plan forces owners to think about their aims, the competition they will face, their financial needs and their likely profits. Business plans help to reduce risk and reassure stakeholders, such as banks.