Tectonic hazards
There are several plate boundaries which cross Asia.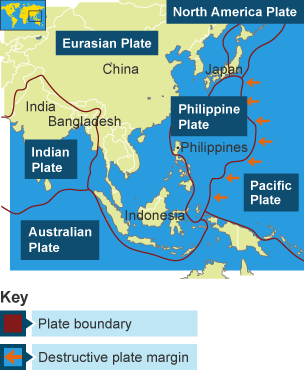 Earthquakes and tsunamis - Japan
Japan is situated near a destructive plate margin, where the Pacific Plate is being pushed under the Philippine Plate.
Earthquakes are common in Japan. Japan has invested money into research and resources to help prepare for earthquakes. The preparation includes:
earthquake drills (practice evacuations) are carried out each year

buildings are designed to withstand strong tremor

households have earthquake survival kits and are familiar with what to do in an earthquake
It is able to invest in earthquake preparation because it is a wealthy country.
On 11 March 2011, a magnitude 9 earthquake struck off the coast of Japan. This earthquake created a tsunami, which was 10 metres high in places.
A tsunami is most likely to happen:
when an earthquake focus is shallow

when the earthquake focus occurs in the ocean

when the earthquake is a high magnitude (6 or more)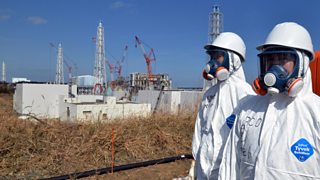 The death toll from this earthquake is thought to be up to 30,000 people. It was the tsunami which caused the most deaths. Other problems were caused by this disaster included:
disruption to the infrastructure

radiation leaks from the nuclear power station at Fukushima

intermittent power (because many of the country's nuclear reactors were taken off-line while there was uncertainty about the radiation)

industries had reduced production because of the limited power supplies

debris left behind from the tsunami covered large areas