Non-renewable energy resources
Most non-renewable energy resources use fossil fuels (coal, oil and natural gas) to generate electricity. In fossil fuel generators, the chemical energy of the fuel is burned to release heat energy.
Below is a flow diagram that describes each energy change that happens inside a fossil fuel power station.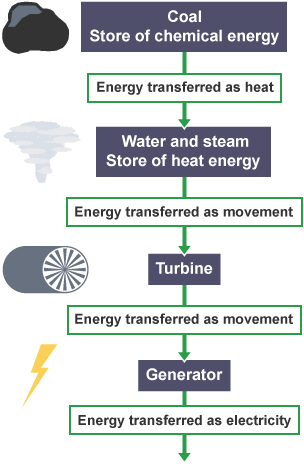 Nuclear power stations make use of the energy stored inside unstable atoms. A similar sequence of energy changes occurs inside a nuclear power station. Instead of chemical energy being burned to produce heat, nuclear energy itself is used to heat water.
Fossil and nuclear fuels are both non-renewable because the sources of these fuels cannot be replaced and will eventually run out.