Study the weather station circles for Lerwick and Land's End. Describe, in detail, the weather conditions experienced on 5 January 2021 at both locations.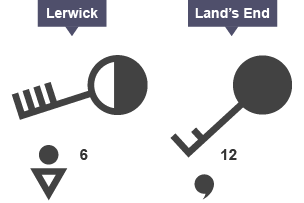 Lerwick. Rain shower, low temperatures (6°C), cloudy skies (4 oktas), with high winds (40 knots) from the west, south-west.
Land's End. Drizzle, warmer temperatures (12°C), cloudy skies (8 oktas) with lighter winds (15 knots) from the south-west.