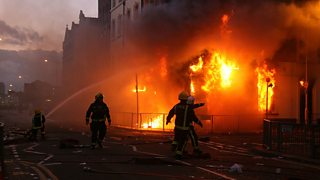 In August 2011, London and other parts of England experienced some of the worst street riots in more than 50 years. Tens of millions of pounds of damage was done to property, with several people injured. The deaths of two people have been linked to the riots in the city.
The Independent Riots, Communities and Victims Panel conducted an enquiry after the riots. It concluded that the factors responsible for what happened in London and elsewhere in 2011 were complicated.
However, the report of the panel did not find most of those arrested were gang members. The majority of rioters were under 24 years old, with poor academic records and at the bottom of society. 'Poor parenting' and the inability to change their lives for the better were noted as contributing factors. Some crimes committed were carried out by opportunists – people taking advantage of the disorder.
The report went on to make a series of recommendations including encouraging the government to develop strategies incorporating the principles of the Troubled Families Programme to help 'forgotten families' turn their lives around.