Leith
Leith used to be a very busy port due to trade links with the UK and the rest of Europe. It was an industrial area with many people employed there.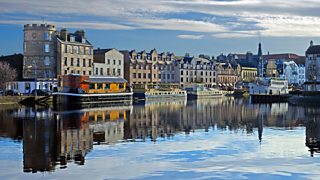 As the port and trade declined, many industries, such as shipbuilding, fertiliser manufacturing, and distilling, closed down. This left derelict buildings and areas of derelict land. Many of the houses in the area were substandard and there were many buildings lying empty. The local population shrank and as a result shopping facilities were less profitable and became limited.
The houses in Leith were of a mainly poor quality with 1960s tower blocks common. There was a high density of buildings, with limited open space. Leith had a higher than average unemployment rate and a lower average income.
Changes in Leith
the Royal Yacht Britannia is now docked there as a permanent tourist attraction

warehouses and empty docks have been converted into flats

Ocean Terminal provides a shopping environment for locals and tourists

housing is a mix of social and private accommodation

also in the area are a radio station headquarters, new hotels, a private Health Club and new restaurants
Leith developments plans
A younger, more affluent population has been attracted to Leith. There has been an increase in daytime population and people are attracted from all over Scotland to spend their leisure time there. The area has been transformed, providing homes and leisure facilities. This process is called gentrification, and often displaces the lower social class from their own area as housing prices rise when the area is made more fashionable through outside investment.