Edinburgh is the UK's fourth most congested city. A recent study shows driving in Edinburgh takes 66 per cent longer in the evening rush hour and 53 per cent longer in the morning peak because of congestion. It also calculated drivers with a 30 minute commute wasted on average 86 hours a year in traffic jams.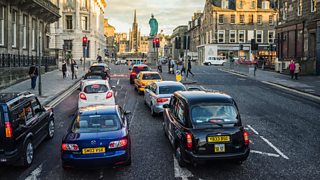 In the city of Edinburgh in 2020, 1.46 billion vehicle miles were travelled on the city's roads. The leads to traffic problems such as congestion.
The western edge of the city, waterfront, and residential areas of the south-east are expected to suffer most from traffic congestion in the future. Office and business developments at Edinburgh Park generate a large amount of traffic in that part of the city as commuters make their way to and from work.
Edinburgh city centre is characterised by narrow, cobbled and winding streets in the Old Town. This exacerbates traffic congestion. Queen Street, Charlotte Square and the western end of Princes Street are areas of significant traffic delay.
Measures to reduce congestion
Park and ride
A Park and ride facility has been built at Ingliston near Edinburgh Airport, on the western edge of Edinburgh. There is space for 535 cars and additional space at other stops such as at Hermiston on the Edinburgh City Bypass, Newcraighall in the east of the city and at Ferrytoll in Fife. More than 500 motorist use these schemes per day.
Pedestrian shopping streets
Pedestrianised areas, like Edinburgh's Rose Street, remove traffic from the central business district (CBD). They are safer for shoppers and reduce pollution. Deliveries can still be made in these areas but usually these are limited to early mornings or nights.
City of Edinburgh Council and business groups have further plans to improve the existing pedestrianised areas in the city.
Traffic calming
Roads are narrowed and speed bumps have been installed to make traffic move more slowly around narrower streets. Narrow roads may restrict the type of vehicle that can enter certain parts of the city.
A speed limit of 20 mph is to be rolled out across Edinburgh by April 2017 making it the first city in Scotland to do so. The limit will be implemented on all residential streets, main shopping areas, city centre streets, and roads with high levels of pedestrian and cyclist activity.
Car pooling
An increasing number of web-based car sharing schemes run across the UK. For example, Tripshare is funded by the Scottish Executive and supported by Edinburgh Council. It is part of the UK's National Liftshare network.
The Edinburgh City Car Club has specific parking spaces in the city so members of the scheme can pick up a car or van locally when they need one.
Permit holder parking
Permit prices across the city centre rose by ten per cent in 2013, just six months after a rise of five per cent. As of April 2014, an annual permit for large vehicles in the highest band costs £408.
Parking charges
Prices at pay and display meters in Edinburgh can cost as much as £3.20 per hour in the city centre. It is hoped that rising prices will deter motorists and encourage them to use public transport.
Edinburgh Congestion Charge
Following on from the implementation of the London congestion charge in February 2003, City of Edinburgh Council announced plans to introduce a road toll scheme to be put in place on main routes into the city. This was rejected in February 2005. A flat charge of £2 would have applied to vehicles entering the city boundary. This plan has been abandoned by the council due to a lack of support.
Improvements to public transport
Transport Edinburgh, the integrated transport delivery authority of City of Edinburgh Council, has worked hard to improve public transport in the city. This includes:
the Edinburgh tram network

new railway stations

improvements to Edinburgh Waverley and Haymarket railway stations, including new platforms to cope with new routes and increasing passengers

a real time bus tracker service
Edinburgh Trams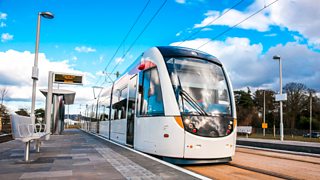 Edinburgh's trams began running in May 2014 after six years of construction. The tram project has cost £776m, millions over the original budget and has taken years more than scheduled. Now trams are running it is hoped that they will go a long way towards reducing traffic congestion in the city.
Bus Tracker
City of Edinburgh Council started its Bustracker project in 2002. This service allows public transport users to find bus timetables and track services easily, either at bus stops or on their smart phones. This service is intended to encourage people to use public transport.