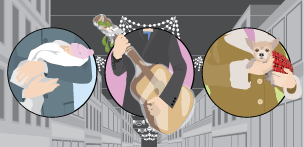 In Trio, Morgan describes a scene on a city centre street in Glasgow on a winter's evening. A trio of people (each carrying an object) are used to examine joy and goodwill.
The happy group and the items they carry symbolises happiness and hope, and contrast is created between the cold weather and the inviting, seductive warmth of the trio's friendship.
The poet uses positive images to describe the group and the items and finishes the poem with a description of the lasting impression left by the group.