ITCZ's effect on the region's climate
The ITCZ has varying effects on climates.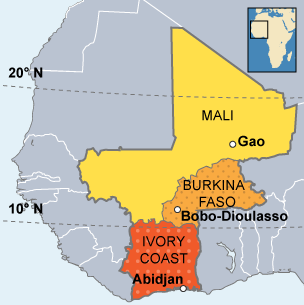 Gao
Gao, with around 200 mm of rainfall per year, is a hot desert climate, with only a limited amount of precipitation in summer as the ITCZ migrates north.
Gao's climate is influenced by the hot, dry cT air for most of the year and as can be seen in the graph below, it therefore has fewer days of rain and very low total annual precipitation.
This is because it is to the north of the ITCZ for most of the year.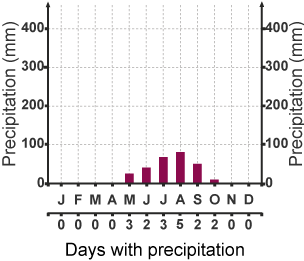 Abidjan
Abidjan, with around 1700 mm of rainfall per year, is a tropical rainforest climate. As the graph below displays, it has a twin-peak regime with a major peak in June and a smaller peak in October/November.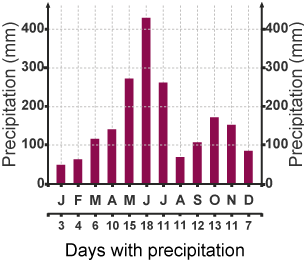 It is on the Gulf of Guinea coast and is therefore influenced by hot, humid mT air for most of the year. This results in a higher total annual precipitation and a greater number of rain days.
The twin precipitation peaks happen because the ITCZ moves north in the early part of the year, bringing rainfall and then south later in the year, again bringing rainfall.
Bobo-Dioulasso
Bobo-Dioulasso has a total annual precipitation of around 1000 mm and has a clear wet season/dry season regime.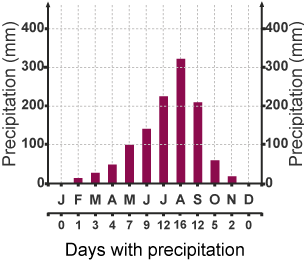 As the graph above shows, it receives more rain days and heavy summer precipitation from June until August when the ITCZ is furthest north. This brings rainfall to the area as the mT air mass is dominant.
The video below considers the causes of the uneven rainfall across Africa.