Other political problems for the CPC
As well as dissidents, the CPC faces other challenge to its authority.
Hong Kong
Hong Kong (HK) is governed differently from the rest of China. Until 1997, HK was ruled by the United Kingdom before being handed back to China. Under UK rule, the people of HK had experienced democracy, including elections for their leaders.
On Hong Kong's return to China, the CPC decided to carry out a policy of "one country, two systems". This policy allowed for greater democracy in HK than elsewhere in China. However, if the people of HK are allowed greater democracy it is difficult to deny the rest of China the same political freedoms.
In Hong Kong there is a freer press, there are opposition parties and political protest is legal. Half of the government is non-communist although the Chief Executive is approved by the CPC (currently Carrie Lam).

2019 protests
Since April 2019, demonstrations over a legal bill that would have allowed Hong Kong citizens to be extradited to the Chinese mainland have escalated into major protests and civil disorder. Protests with crowds of over a million people have taken place and the Hong Kong police have used tear gas and rubber bullets to break them up.
Unrest in Xinjiang
In the mineral rich province of Xinjiang in the far west of China the majority of people are from minority groups. The Muslim Uighurs account for 45% of the population. In recent years there has been widespread violence between Uighurs and Han Chinese who make up around 40% of the population of the area.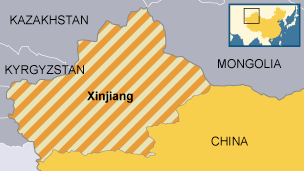 The Chinese authorities blame a minority of Uighurs for the unrest. They claim those involved are terrorists who are using violence as a way of gaining independence from China.
Uighurs say they resent the wealth and influence that the generally better off Han Chinese enjoy. They claim most of their protests are peaceful but the authorities use violence as a way of keeping any protest in check.
Since 2014, the Chinese authorities have introduced a "strike hard" campaign targeting any Uighurs whom the Chinese government claim are refusing to co-operate with the authorities.
In 2018, the UN Committee on the Elimination of Racial Discrimination claimed that China had interned up to a million Uighers in "re-education" camps.
Human Rights groups say the camps are actually high-security prisons, holding hundreds of thousands of Muslims against their will.
Beijing has always denied this, despite the high-security features, like watchtowers and razor wire, and leaked documents detailing how inmates at the so-called centres have been locked up, indoctrinated and punished.
According to Beijing, the camps are designed to promote the Chinese language and Chinese values and traditions, however the UN Committee report states that there have been claims of physical and psychological torture and a widespread suppression of Islamic culture.
In December 2019, a senior Chinese official said that all those sent to detention centre had now "graduated" and left the re-education centres.
Growing middle class
China's emerging middle class (over 109 million people in 2015) have been broadly supportive of the Communist Party in recent years. Many of these people have benefited greatly from social/economic change. However, some have begun to be more critical of the political system.
With growing evidence of environmental pollution, widespread corruption in government and more recently, decreases in living standards in tough global economic times, a greater number of middle class people have taken to the internet and social media to question the way the country is run.
This criticism is a concern for the CPC. The middle class are regarded as their key supporters. Many are low-ranking members of the Communist Party. President Xi has therefore demanded changes to improve China, including cleaning up the environment and cracking down on corruption in government.
Corruption
One of the biggest threats to the leadership of China is when CPC officials are found to be corrupt. In a one party state there is not the same scrutiny of government.
As China has become wealthier some individuals have taken advantage of their positions within the CPC to illegally reward themselves, families or friends.
When President Xi took over in 2013 he was determined to improve the image of the party. He ordered a crackdown on corruption. For example, in 2015 politburo member and former head of China's security services, Zhou Yongkang, was found guilty of corruption charges and was sentenced to life in prison.