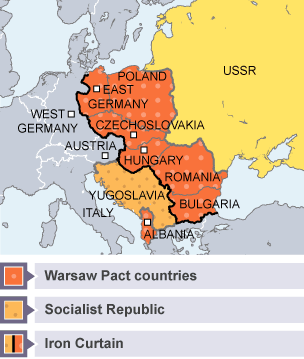 20 million Russians died during World War Two, so Stalin said he wanted a buffer zone of friendly states around Russia to make sure that Russia could never be invaded again.
Stalin was planning the takeover of Eastern Europe. During the war, Communists from the occupied countries of Eastern Europe escaped to Moscow and set up Communist governments in exile there. As the Red Army drove the Nazis back, it occupied large areas of Eastern Europe and Churchill in the so-called percentages agreement - agreed that Eastern Europe could be a Soviet 'sphere of influence'.
In the countries that the Red Army 'liberated', communist-dominated governments took power. The Communists made sure that they controlled the army, set up a secret police force, and began to arrest their opponents. Non-Communists were gradually beaten, murdered, executed and terrified out of power. By 1949, all the governments of Eastern Europe, except Yugoslavia, were hard line Stalinist regimes.
In 1946, in a speech at Fulton in the USA, Churchill declared that an Iron Curtain had come down across Europe, and that Soviet power was growing and had to be stopped. Stalin called Churchill's speech a 'declaration of war'. In 1947, Stalin set up Comintern - an alliance of Communist countries designed to make sure they obeyed Soviet rule.