Typhoon Haiyan was a tropical cyclone that affected the Philippines in South East Asia in November 2013. It was one of the strongest tropical cyclones ever recorded with winds of 313 km/h. In some areas, 281.9 mm of rainfall was recorded, much of which fell in under 12 hours. Waves of up to 7 m in height battered the coast. The Philippines is a fairly poor part of the world with minimal investment in prediction, planning and protection schemes.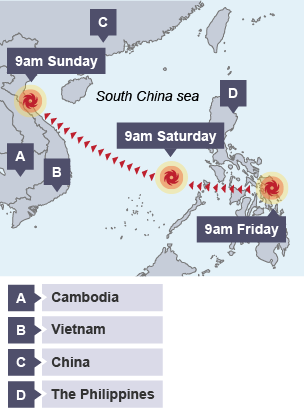 Typhoon Haiyan had significant economic, social and environmental impact.
Responses
Even though the loss of life was significant, it could have been much worse if not for the efforts of PAGASA, the Philippines' meteorological agency. It broadcast warnings two days before Typhoon Haiyan hit, leading to the evacuation of approximately 750,000 residents.
The Philippines formally declared 'A State of National Calamity' and asked for international help, one day after Typhoon Haiyan hit the country.
The UK government provided food, shelter, clean water, medicine and other supplies for up to 800,000 victims.
Several charities provided emergency aid such as water, food and shelter. In the longer term, they are helping people get their livelihoods back, for example by repairing fishing boats or distributing rice seeds.
The United Nations launched an international aid appeal in December 2013 for £480 million to finance the humanitarian relief effort for 2014.
In 2014, the Philippines commissioned billboards in some of the world's prime advertising sites such as New York's Times Square and London's Piccadilly Circus to thank people for their help after Typhoon Haiyan.