Hyp 2: The bedload size and shape will increase as you move upstream
In order to investigate the changing bedload size and shape in the river you must visit 5 different sites from the Upper course, Middle and Lower course.
Equipment: Metre ruler or callipers, copy of Powers Index of Roundness.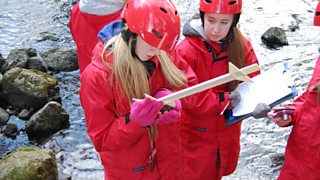 Fieldwork on the Glenarm River
The aim of this is to measure the size and shape of a sample of stones from each site visited in the river.
At each site along the river move across the river and select 20 different stones found at the river bed. You should use a random method of collection – put the metre ruler into the water and pick up whatever stone it is touching.

Use the ruler or callipers to measure the long axes of each stone (the longest two points on the stone) – this should be recorded in cm.

Use the

Powers Index of Roundness

to observe and compare the shape of the stone and record this.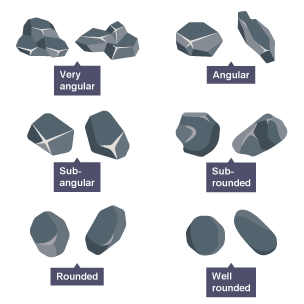 Example of recording sheet for bedload size and shape
| Stone Number | 1 | 2 | 3 | 4 | 5 | 6 | 7 | 8 | 9 | 10 |
| --- | --- | --- | --- | --- | --- | --- | --- | --- | --- | --- |
| Long Axis Length | | | | | | | | | | |
| Shape of stone | | | | | | | | | | |
| Stone Number | 11 | 12 | 13 | 14 | 15 | 16 | 17 | 18 | 19 | 20 |
| --- | --- | --- | --- | --- | --- | --- | --- | --- | --- | --- |
| Long Axis Length | | | | | | | | | | |
| Shape of stone | | | | | | | | | | |
Secondary source - map of the Glenarm river area map to help locate the different sites