Everything in the world is made from about 100 different chemical elements that join together in different ways to form all the solids, liquids and gases we see around us.
An element is a substance that contains only one type of atom. As a result, they are the simplest substances known.
All of the elements have been arranged into the periodic table.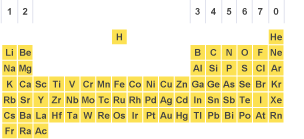 The periodic table can be divided into periods (horizontal rows) and groups (vertical columns).
Elements that are in the same group of the periodic table have similar chemical properties (they react in the same way). Some groups have their own names.