When a chemical reaction happens, energy is transferred to or from the surroundings. For example, changes in heat energy happen in the following situations:
When these reactions happen in solution, there are temperature changes that can be observed. These can be measured using a thermometer.
Reactions can be endothermic or exothermic. The table shows some differences.
| | Endothermic | Exothermic |
| --- | --- | --- |
| Heat energy | Taken in | Given out |
| Temperature of reaction mixture | Decreases | Increases |
The slideshow describes an exothermic reaction between dilute sodium hydroxide and hydrochloric acid, and an endothermic reaction between sodium carbonate and ethanoic acid.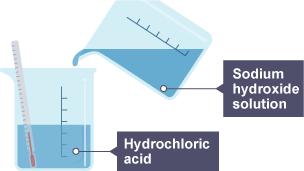 In endothermic reactions, energy enters from the surroundings. In exothermic reactions, energy exits to the surroundings.