Marketing and promotion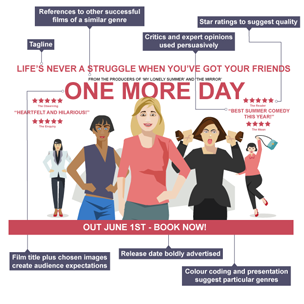 Film posters use different strategies to market a film to a target audience
Studio films are 'hyped' up by the companies that produce them.
Cross-platform strategies are used to appeal to a full range of potential audiences. The James Bond film Spectre used a marketing method which included:
An official website for the film, produced by Sony Pictures

A

viral

campaign, using

teasers

and trailers on YouTube with associated

hashtags

(#spectre) as well as mobile games and apps like

James Bond 007: World of Espionage

.

Adverts or interviews with the stars of the film in the print media (newspapers and magazines), including feature articles about the film, along with posters and billboards advertising the film.

Press releases announcing the production of the film, and then the film release

Theatrical and TV trailers

Actors on talk shows to promote the film, for example the

Spectre

stars on

The Graham Norton Show

The use of

merchandise

and official products to promote the film. Accessories like

Spectre

wallets and notebooks, collector's items like

Spectre

jewellery and promotional artwork.
This cross-platform marketing can be driven by word of mouth as more and more people talk about it.
This makes the film more attractive to potential viewers who might feel they will be missing out, if they don't watch it.
Social media buzz reflects this word of mouth and most promotion will use a specific hashtag for marketing campaigns.
Independent film promotion
Independent films rely heavily on critic reviews in newspapers, magazines or online publications that specialise in independent film.
Prizes from film festivals help attract potential audiences and can increase the amount of cross-platform media coverage a film can achieve.
Like studio films, most independent films will have official websites, press releases, trailers and teasers.
Independent films will not normally have merchandise or television adverts to promote the film, these films will rely more heavily on word of mouth and social media.