Independent Films
Independent films are produced by smaller production companies. They do not follow the same formula as studio films. Instead, they vary in style and genre.
Independent films are often designed to make you think about certain subjects or issues, and feature challenging storylines that are more realistic and less escapist than in studio films.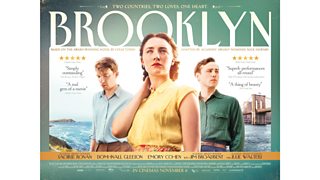 An official poster for the film Brooklyn
Examples of UK indpependent film companies are BBC Films (Brooklyn), Big Talk Productions (The World's End), Heyday Films (The Boy In The Striped Pyjamas), Cloud Eight Films (Selma), Ruby Films (Suffragette), and Vertigo Films (StreetDance).
Financing
Independent film productions raise money from a variety of sources.
Some small production companies may collaborate on the production by sharing industry skills and financial resources.
Independent production companies can secure funding from private investors but usually they are funded by arts agencies, such as the British Film Council or the British Film Institute.
Some television broadcasters, like BBC Films and Film Four, also fund independent films.
The internet has enabled independent filmmakers to seek funding from online donations or crowdfunding.
Distribution
Unlike studio films, which usually have a mainstream cinema release, independent production companies enter their films into local, national and international film festivals to gain exposure with distributors who may then buy the distribution rights.
Distribution companies work to get independent films theatrical releases - nationally and internationally - and make deals for DVD, Blu-Ray and on-demand releases.
Independent films tend to have a limited theatrical release in comparison to studio films, though there are many cinemas throughout the world catering for audiences and fans of independent film.
In the past, independent films have been considered to have lower production values than studio films, but this has changed with technological innovations, including better and more affordable cameras and computer software for special effects and editing.
The ability to achieve high production values on low budgets has enabled independent films like Juno to find mainstream success.