Bruce and former Guardian John Comyn had been debating how Scotland should be ruled for some time before they met in Greyfriar's Kirk, in Dumfries on 10 February 1306. Historians are uncertain about what actually happened at the meeting.
Neil Oliver describes events at Greyfriar's Kirk in the video below.
The two nobles met as rivals and tensions would have been high.
There was some sort of disagreement and when Bruce left the Church, Comyn was already wounded.
Some reports say that Bruce's companion, Kirkpatrick, re-entered the church to make sure Comyn was dead.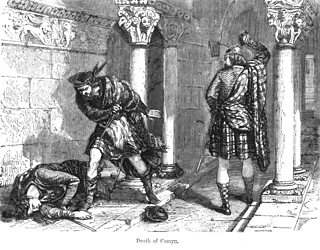 Other reports say that it was Bruce himself who assassinated Comyn.
Bruce had killed someone in a holy place, which meant he had committed sacrilege (a crime against the Church).
As a result, Bruce was excommunicated (expelled from the Christian Church by the Pope).
Bruce's coronation
Bruce still had the support of Bishop Wishart of Glasgow, who pardoned him for his crime and helped him to organise his coronation.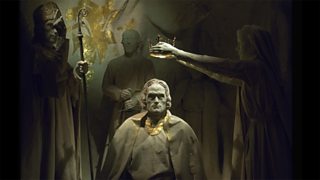 Bruce was crowned King of Scotland on 25 March 1306.
The coronation took place at Scone, where the Scottish Kings were traditionally crowned.
There were only a few supporters present and the ceremony was led by the Countess of Buchan.
The ceremony took place without the Stone of Destiny and the Scottish Crown Jewels, which had been taken to England by Edward 1, in 1296.
Defeat
At first Bruce had little support and many intended to depose him. He suffered a number of setbacks in his first few months as King.
At Methven Wood in June 1306, Bruce was defeated by an English force and suffered heavy losses.
At Dalry in July 1306, Bruce's remaining supporters were virtually wiped out by the Scottish noble, John MacDougall (a supporter of John Comyn).
In the autumn of 1306, his brother, Neil Bruce was beheaded. His wife, sisters and daughter were placed under house arrest. One sister and the Countess of Buchan were imprisoned in cages.
Bruce, who fled from the Scottish mainland, gained the nickname 'King Hob' at this point in his reign – he was the 'King of Nobody'. It is not known exactly where he went, although he probably spent the winter on an island off the west coast.