Introduction to polybat
Overview
Polybat is a bat and ball game that is specifically aimed at players with physical disabilities. It is played on a table tennis table without a net and with barriers on the sides. The game was developed at Nottingham Trent University by a PE teacher and a team of students as part of their Adapted Sports programme and can be played in both singles and doubles formats.
The aim of the game is to hit the ball over the opponent's end of the table or cause them to play a fault by lifting the ball off the table surface. People of all ages, abilities or disabilities can enjoy polybat and the game's characteristics make it suitable for players with coordination or balance issues.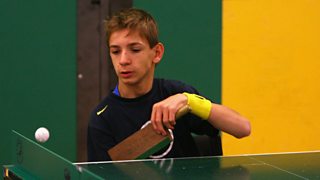 History
Polybat was developed by Nottingham Trent University. However, despite the best efforts of committed parties, it was not until the support of the Youth Sport Trust (YST) and the English Table Tennis Association (ETTA) that more formal aspects of the game were achieved in 1999. Since 1999, it has been included in a number of regional and national games within the UK, organised by Disability Sport England.