A regular arrangement of ions
The ions in a solid ionic compound are not randomly arranged. Instead, they have a regular, repeating arrangement called an ionic lattice. The lattice is formed because the ions attract each other and form a regular pattern with oppositely charged ions next to each other.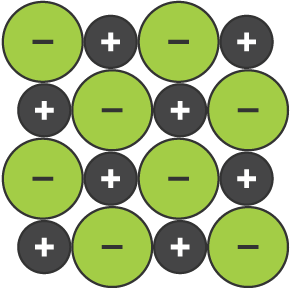 Remember that the lattice arrangement is giant - for example, a single grain of salt may contain 1.2 × 1018 (1,200,000,000,000,000,000) ions. The lattice arrangement continues in three dimensions. This is why solid ionic compounds form crystals with regular shapes.