Forming ionic bonds
Dot and cross diagrams
A dot and cross diagram can model the transfer of electrons from metal atoms to non-metal atoms. The electrons from one atom are shown as dots, and the electrons from the other atom are shown as crosses. For example, when sodium reacts with chlorine, electrons transfer from sodium atoms to chlorine atoms.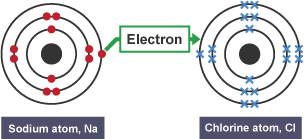 Modelling ionic bonding
The slideshow shows dot and cross diagrams for the ions in sodium chloride, magnesium oxide and calcium chloride.