Frequency of disease
Frequency tables and diagrams record the number of times something happens.
Recording the frequency of disease is important. Frequency tables and diagrams allow scientists to look at correlations. Possible causes of the disease can then be investigated.
Frequency of disease can be measured in several ways:
counting the number of people affected

the ratio or proportion of those affected

the rate at which new cases occur

the risk - the probability of someone getting the disease, this should be recorded over a period of time, eg a year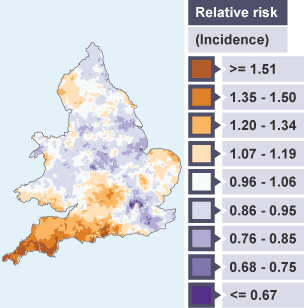 This map of instances of malignant skin cancer in England and Wales is based on the numbers of cases over 25 years.
The map shows that a higher frequency of the disease is correlated with southern areas of England, the areas of England and Wales receiving most sunshine and where the population will receive most exposure to ultraviolet radiation.
Scientists have mapped the risk of developing the lung disease COPD and concentrations of small pollutant particles in England and Wales.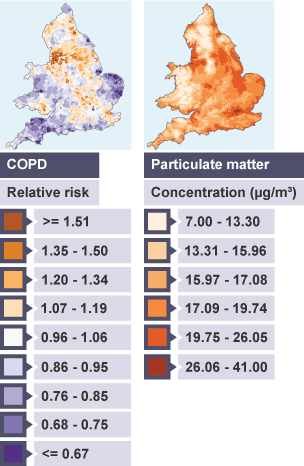 A close correlation can be seen between COPD and small pollutant particles across cities, where traffic levels are highest. This suggests that air pollution is one cause of COPD. But the relationship does not hold true for all areas, and scientists have concluded that other factors, including rates of smoking and genetic factors, also need to be considered. A correlation does not always imply cause.
Frequency diagrams are often essential in establishing links and possible causes of disease. Studies that have been published help to shed light on some conditions and also produce questions for further research.