And the Glory of the Lord is a chorus taken from Handel's oratorio Messiah (1741) written for SATB (soprano, alto, tenor, bass) choir and orchestra.
An oratorio is a setting of religious words for solo singers, chorus and orchestra.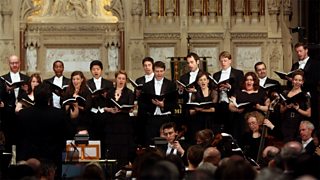 Handel was born in Germany and worked as the court conductor for the Elector of Hanover. He visited England and eventually settled there. His most famous works include:
The first performance of Messiah took place in a newly opened concert hall in Dublin. Now it is often performed in concert halls and churches and is popular with amateur performers. Messiah has as its theme the central message of Christianity - the birth, life and death of Jesus Christ (the Messiah). The words are taken from the prophecies in the Old Testament about the coming of the Messiah.
The words were selected by Charles Jennens. The whole work takes about three hours to perform. Amazingly Handel only took just over three weeks to compose it.
Messiah was written during the Baroque period. And the Glory of the Lord is the fourth movement of Messiah. It is the first time in the work that the choir sing.
The movement opens with a short orchestral introduction. For the first performance, the small orchestra included strings, two trumpets, timpani, organ and harpsichord continuo. Handel added more instruments (oboes and bassoons) for later performances.
The first entry is by altos singing the melody of the orchestral introduction.
The words tell of the coming of the Lord (the promised Messiah):
"And the glory of the Lord shall be revealed"
"And all flesh shall see it together"
"For the mouth of the Lord hath spoken it"
It is a joyous movement which is reflected in the bright key of A major, the allegro tempo and the lilting rhythms.