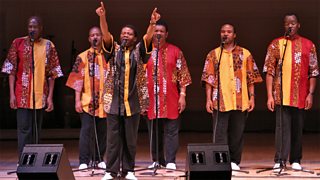 Different types of choirs include mixed choirs (usually with parts for SATB - soprano, alto, tenor and bass), male voice choirs, female choirs, and a cappella ensembles.
A cappella ensembles are unaccompanied choruses. Ladysmith Black Mambazo are an a cappella Zulu male voice choir from South Africa. African songs are usually either strophic (split up into verses) or in call and response form.
In call and response form the leader sings a line (the call) and is answered by a chorus (the response). The chorus usually stays the same while the soloist improvises. There is often overlapping between the leader and the chorus. The chorus part is usually homophonic (in block chords).
An example is the song The Star and the Wiseman sung by Ladysmith Black Mambazo. This piece contains homophonic response parts.